HIT BY A TRUCK?
- August 12th, 2016
TRUCK DRIVERS NEED TO TAKE EXTRA CARE, BECAUSE THEIR VEHICLES ARE EXTRA DANGEROUS.


Fatal truck accidents happen nearly 11 times every single day in this country on average, and killing nearly 4,000 people each year, according to the Federal Motor Carrier Safety Administration. More than 100,000 people are injured every year in truck crashes.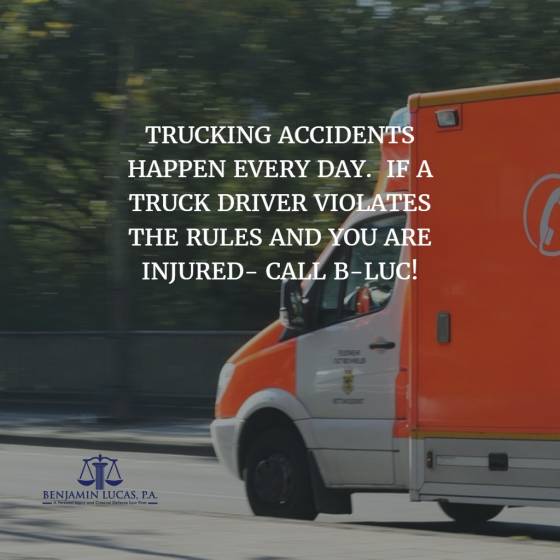 And the numbers have been getting worse: Truck-crash fatalities have increased since 2009, as more goods are shipped on American highways and more pressure being placed on trucking companies—and drivers—to get the loads delivered on time.  It is a clear case of prioritizing profit over safety.  
Most deaths in large truck crashes are passenger vehicle occupants. The main problem is the vulnerability of people traveling in smaller vehicles. Trucks often weigh 20-30 times as much as passenger cars and are taller with greater ground clearance, which can result in smaller vehicles underriding trucks in crashes.
Truck braking capability can be a factor in truck crashes.  Loaded tractor-trailers take 20-40 percent farther than cars to stop, and the discrepancy is greater on wet and slippery roads or with poorly maintained brakes.  A lot of the trucks are simply driving too fast and following too close. Truck drivers need to be trained and drive according to these laws of physics.  Truck driver fatigue also is a known crash risk. Drivers of large trucks are allowed by federal hours-of-service regulations to drive up to 11 hours at a stretch and up to 77 hours over a seven-day period. Surveys indicate that many drivers violate the regulations and work longer than permitted. Other  reasons for these crashes are companies that don't screen for problem drivers, and failure on behalf of the driver to take ordinary care while on the road.  
Thousands of deaths a year should cause have the nation in an uproar.  The companies and drivers need to follow the rules of the road.
If you have been injured by a truck crash- CALL B-LUC!